Track and Coordinate Your Custom-Made Items
We at RM Innovation are excited to introduce the newest member of our family: Loom Report! This is much more than just another feature in the software – it's actually a collaborative website integrated with your RMPro where you can monitor the progress of Custom Orders. You can invite each of your vendors who manufacture products for you, and agree that they regularly provide status updates in this same website. These updates include important information such as the estimated time of arrival, percentage of progress, and any images and/or videos the vendor uploads. Now you can keep a close eye on how your custom orders are coming along without having to constantly nag your vendors!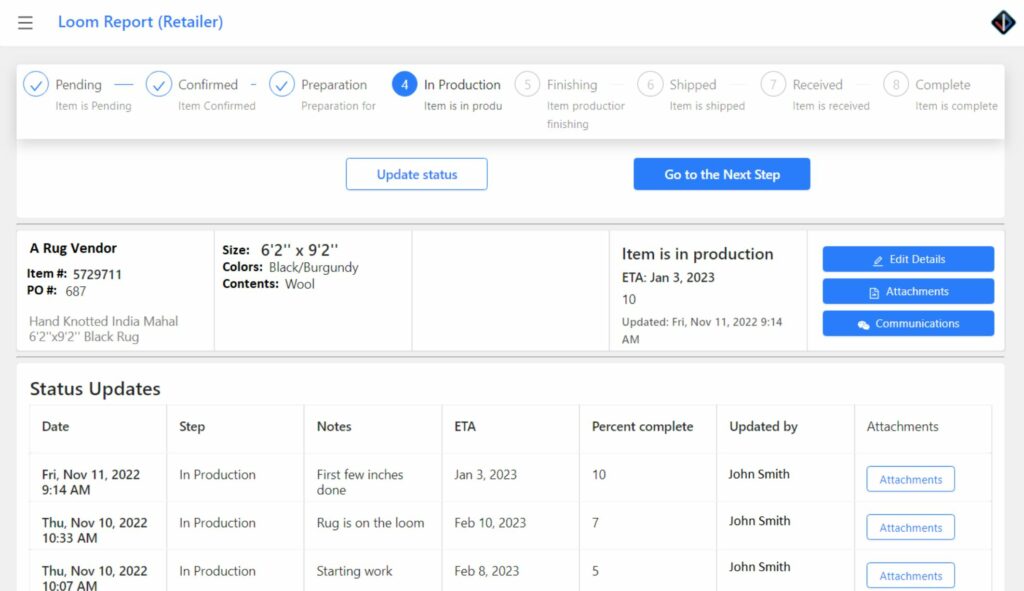 Central Portal for Both You and All your Vendors
Whether you're a retailer or a vendor, you can login to the central portal at www.loomreport.com to access your orders. As a retailer, you can submit new orders, check status of items, and communicate with your vendor on an item-by-item basis. Your vendors can also login and see all the items they need to manufacture for you (and other retailers), and further provide regular updates on whatever schedule you've agreed with them.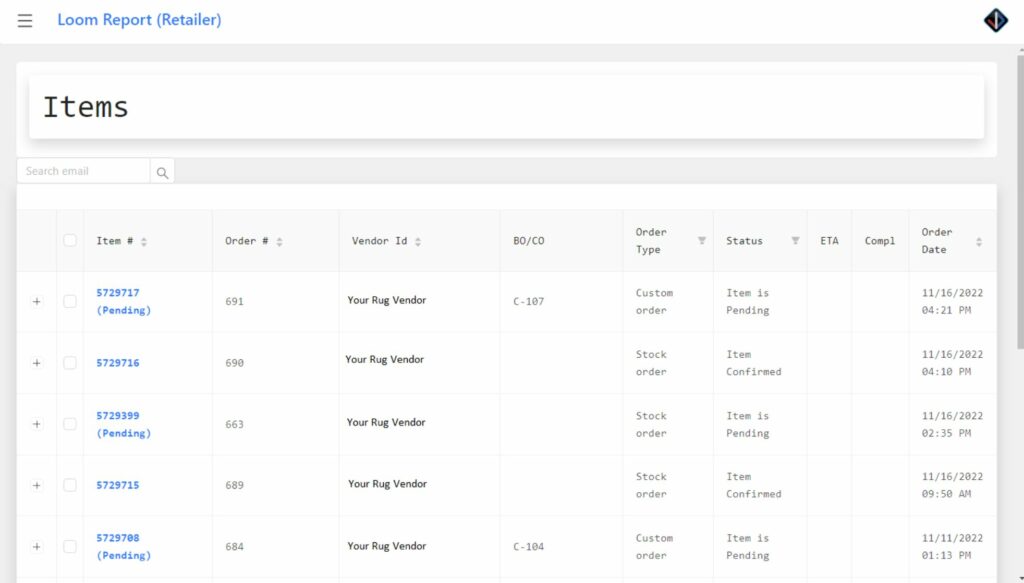 Send Orders and Check Status Directly from RMPro
Double-entry of data is always a pain – it's time consuming and has a risk of mistakes. That's why we connected RMPro to the Loom Report, allowing you to send items from RMPro directly to the Loom Report! It supports Stock Items (those items you are getting for your own stock), Custom Items (being made for customers on a Custom Order), and Back Order Items (program items being fulfilled for customer Back Orders). In any case, you can quickly and easily send all the details to the Loom Report for your vendors to access. This even includes all the files attached to a Custom Order or Purchase Order!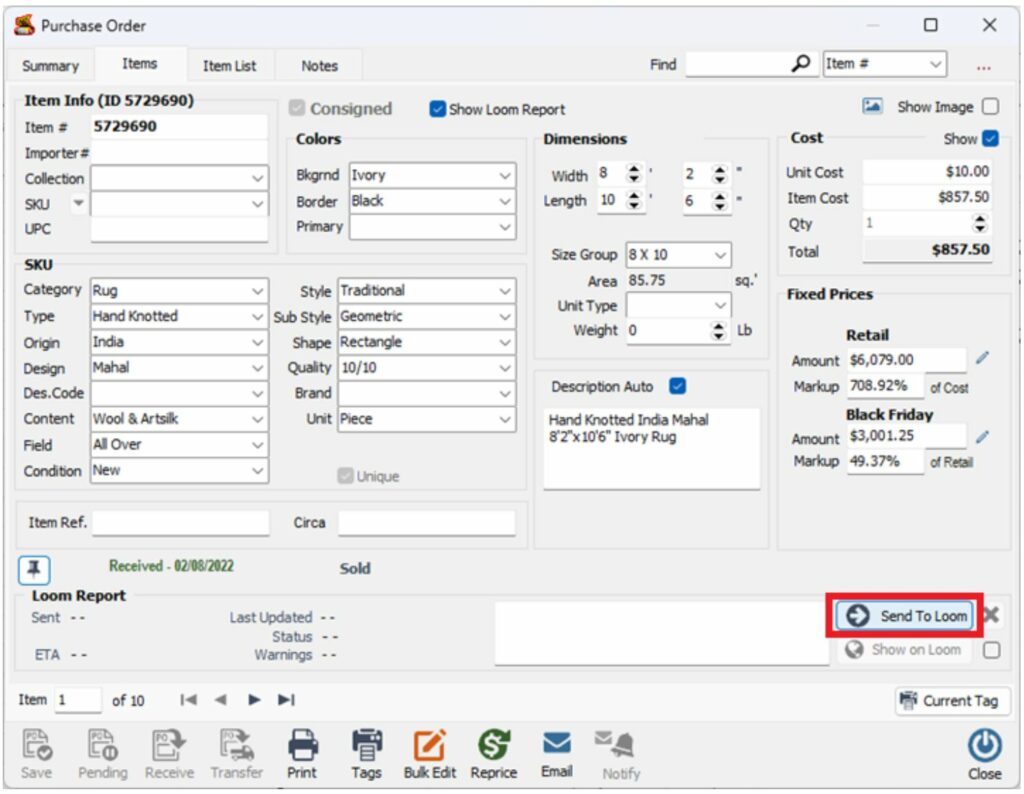 Vendors Regularly Provide Updates for You
Juggling hundreds of custom items being manufactured by multiple vendors? Trying to stay on top of everything via email or phone, just to find a mess? The Loom Report pulls all this madness together into one simple place where you can review all your orders in a glance. As long as your vendors agree to update the Loom Report on a regular basis, you will immediately have access to the latest and greatest all from one place.

Visually See the Item's Progress Along the Way
What's better than raw data informing you of an item's manufacturing progress? How about images and videos! When your vendors provide progress updates, they can attach any number of files that you may need. Not only could this be pictures of a rug on a loom, or a video of someone weaving a rug, but virtually any file type can be attached. Use CAD software to design rugs? Those files can be attached too and collaborated in both directions. Require your vendor to send you shipping and customs documents? You can centralize those in one place too!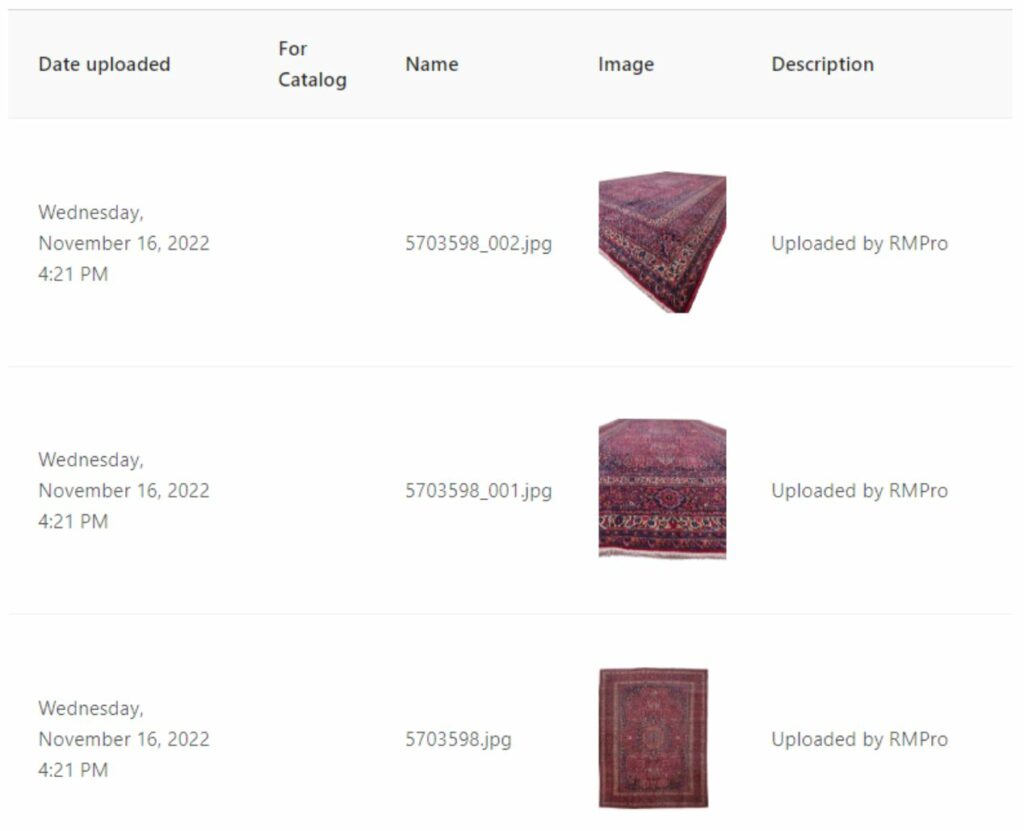 Check Item Status Directly Within RMPro
If an item was originally sent to the Loom Report from RMPro, then you can also use RMPro to check the current status! With a single click, RMPro will connect to the Loom Report and get the latest information, including the current step, ETA, percent done, and any message provided by your vendor. You can also click the "Show on Loom" button to automatically open your web browser and navigate to that specific item on the Loom Report website. It's never been easier to find the information you need!